Tuesday, March 22nd, 2022
Lundar Ag Building (Blue Building North End of Fair Grounds)
6:30 – 7:00 PM Join us for supper
7:00 – 8:00 PM Meeting
Everyone is welcome to attend and join us for a free supper followed by our AGM.
We will be discussing the LUNDAR FAIR 2022
We need input, suggestions and support from surrounding communities too.
There are several volunteer opportunities available on our Fair Committee and we need people to take on various roles for the Fair to be a success.
Please join us in planning for 2022
Become a member for $5.00 and be part of an active organization focused on serving our rural communities
Our Board has 7 directors and all current Directors are willing to stay on for another term. Thank you to these individuals.
If you need more information, to offer suggestions or to volunteer
Contact President -Mike Kostyshyn 204-762-5854 or Administrator – Arlene B. Darknell 204-739-8050
Thank you to Doris Thorkelson & Family for donating the land. Chris and Todd at Paterson Grain for donating fertilizer. Mazer Group Arborg for donating the tractor and baler and Zack for operating it. Also to the many volunteers that helped prepare the land, seed,...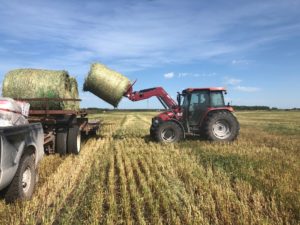 Thank you to Doris Thorkelson & Family for donating the land. Thank you to our sponsors… Shachtay Sales & Service Ltd, Paterson Grain and Dodds Siding.