The Lundar Fair
New for 2023 - the Lundar Fair is being held on the 3rd weekend of June.
2023 Fair – Friday, June 16th & Saturday, June 17th, 2023
The very first Lundar Fair was held in the fall of 1927. Apart from pausing from 1933 to 1953 for the great depression and World War II and for the Global Covid – 19 Pandemic in 2020 and 2021, it's been held each year. Since then it's grown into an event that the community looks forward to year after year.
New for 2023: The Lundar Fair is held the third weekend in June.
The 69th Annual Fair will be held Friday, June 16th & Saturday, June 17th, 2023.
Saturn Shows, our midway for many years, has retired. We thank them for their years of providing wonderful memories at our Annual Fair. We have had to change our date to ensure we have midway at our Fair and welcome Select Shows!
Admission Prices
| | | |
| --- | --- | --- |
| | Daily | Weekend |
| Adults | $10 | $15 |
| 17 & under  | $5 | $10 |
| 12 & under | FREE (if accompanied by an adult) | FREE (if accompanied by an adult) |
| Preschool | FREE | FREE |
What's at the Lundar Fair?
Our events and entertainment change each year, but here's what you can expect from the Lundar Fair when you go.
Parade
The parade is always held on the Saturday morning of the event. The parade can be viewed along Main Street in Lundar, Manitoba.
The parade draws a wide variety of entries from decorated floats, cars & trucks, horses, decorated bikes, tractors & more.
Organizations, Businesses and Individuals need to enter in advance. Fill out the form below to enter.
Tractor Pull
The Antique Tractor Pull is held later in the day on Friday and Saturday. Refer to the program for more information.
Tractor Pull enthusiasts from several communities gather to test both their driving skills and their tractor's pulling capabilities.
If you're interested in competing, bring your tractor to the weigh in. Tractors made before 1960 are accepted.
Commercial Vendor Section
Businesses, Crafters, Sales Representatives, Educational Displays & more are invited to book a booth at the Lundar Fair. There is a limited amount of indoor and outdoor booths available, so book early.
For visitors, the commercial display area is a great way to do some local shopping with crafters and independent sales representatives. Located inside the curling rink across from the Home Living Section.
Be sure to also check out the Agricultural Equipment and Services on display outside by the horse ring.
Fireworks
What's a Fair without fireworks! Join us Friday evening at dusk 10:15 pm at the airstrip just west of town on PR 419.
Make sure to get there early for the best view.
Fireworks display sponsored by:

Baby Show
The Baby Show is held Saturday morning at 9:15 am in the curling rink.
Parents are welcome to enter their babies aged six to eighteen months in the baby show!  Winners will be invited to ride on the float in the parade.
Every baby will receive a participation certificate and ribbon.
A trophy and ribbon will be awarded for 1st and 2nd place, in each class.
Class 1 – Girls, over six months and under 12 months
Class 2 – Boys, over six months and under 12 months
Class 3 – Girls, over 12 months and under 18 months
Class 4 – Boys, over 12 months and under 18 months
Class 5 – Girls 18 – 24 months
Class 6 – Boys 18- 24 months
Age requirement as of June 17th, 2023 – Sorry NO exceptions
Home Living Section Exhibits
Keeping up with tradition the Lundar Fair exhibits home living creations in a variety of categories.
Entries from the following classes are judged and displayed in the curling rink: Sewing, Crocheting, Knitting, Photography, Crafts, Home Baking, Canning, Horticulture & Junior Division. Viewing is opening Friday evening and all day Saturday.
Have a look at our class sections under downloads and start preparing your entries now.
Cattle Classes
The first cattle classes were held in 1969 and continue today showcasing: Registered Beef Breed classes, a Jackpot Heifer show and Pee Wee Showmanship.
Junior Commercial Classes being held again in 2023.
Check out the Cattle Classes under downloads.
The Pen of 3 Heifers are 2022 purebred and/or commercial heifers, shown in pens.
A fun way to judge and you may win some $.
Public Judging is from 10 am – 4 pm Saturday by the Agri-Ed Centre.
Buy a ticket for the 50/50 Draw and vote for your pen of choice.
Horse Show
The Lundar Agricultural Society is a founding member of the North Interlake Show Circuit (NISC). The Lundar Fair Horse show is the first show of the circuit.
The Horse show has seen many changes over the years and it is always fun to watch the riders and their horses compete in variety of classes.
The 2023 Light Horse Show will be held on Saturday, June 11th starting at 8:30 am.
Horse Classes are under downloads. Be sure to check out the NISC page for rules & regulations.
Other Things at the Lundar Fair
Midway – New for 2023: Midway Select Shows. Come enjoy a variety of fun rides for the family. Tickets and wristbands are available to purchase.
Concerts – Each year the Lundar Ag Society invites different performers to the Lundar Fair. These include daytime shows and evening performances.
Beer Gardens – A place for adults to gather, enjoy a drink, and take in the music.
Family Friendly Activities – There are a variety of activities for kids and families. These change every year, so check the schedule for details.
Grab a bite to eat – Food is sold on site and we also have a pancake breakfast and BBQ dinner you can attend.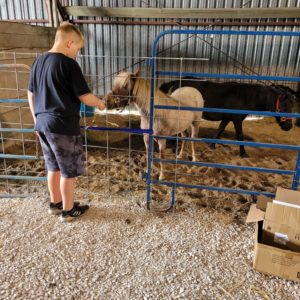 Petting Zoo
Tiny Treasure Mobile Farm would love you to stop by and meet their animal family.
Their petting zoo features mini horses, Winnie & Miss Sophie, Jake the mini donkey, Daisy-Mae, Willow and Griffin the fainting goats, Kevin and Bitsy the potbelly pigs, Misty a Flemish Giant and many other cute and cuddly friends.
6 Hitch Draft Horse Team
A 6 Hitch Draft Horse team will be featured in the parade and will also do a demo in the horse ring immediately following the parade on Saturday.
Sigfusson Northern Ltd – Fireworks
Sabados Industries
Farm Credit Canada
Access Credit Union
Interlake Consumers Co-op
Randy's Tire
RM of Coldwell & Lundar All Canada Goose Shoot – Saturday Breakfast
Shachtay Sales & Service
Leo's Sales & Service
Val Hallson & Family
Jason Goodman Construction & JSK Mechanical – Petting Zoo
Trailwood Enterprises
Coldwell Lundar Community Foundation Inc
Forbes Bros
Beaman Contracting Ltd
Metro Piling
3D Surveying and Consulting Ltd
Roland Air Spray
R & F Freightways
K.J. Eavestroughing & Revolt Electric
Stu Patton
Deals for Days
Randy Moody
Lundar Bull Sale
Reykdal Ag & Security
Paterson Grain
Mason Farms
Mazer Group
Lundar Napa Auto Parts & Autopro
Arborg Home Hardware Building Centre
Lundar Legion Ladies Auxiliary #185
Lundar General Store
Enns Brothers
Click below for the Full Lundar Fair Program